Well it was the last day of practice at the Shrine Game for the week, the teams will come out today and do some work but it won't be anything more than a glorified walk through. The NFLPA game though had some hitting and the Battle of Florida game went team v. team in intrasquad scrimmages.
Optimum Scouting
"I decided to consolidate my notes today based on the fact that very little came out of East Practice and the West Practice was pad-less. Still, got a few notes on each position to look at.
The big winners today were Lance Lewis, Shawn Loiseau, Kyle Wilber on the East and Dan Persa, Justin Francis, Aaron Henry on the West."
National Football Post
Wes ranked the Top 10 prospects from this game in his mind;
"After three days of practice in St. Petersburg Florida, the NFP ranks the East-West Shrine game's top prospects for the upcoming NFL draft and breaks down which NFL teams are good fits for each.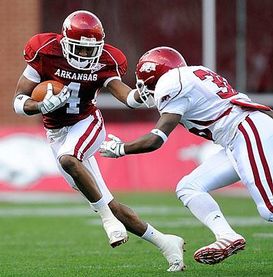 1. Arkansas WR Jarius Wright (5-10, 176)
The undersized wide out didn't have the type of dynamic week of practice I expected. However, a lot of that had to do with the quarterbacks on the west roster. Nevertheless, he was the one guy on the field who opposing corners were terrified of on the outside due to his ability to run vertically down the field."
Tom Melton NFL Draft Blog
"B.J. Coleman (Chattanooga) remains the top QB in St. Petersburg this week, though he isn't perfect. His footwork is still developing but he has thrown the ball pretty well all week. He has had accuracy issues, I don't see a lot of anticipation throws from him, and there are a few balls every day that wobble a bit off of his hand."
"Chandler Harnish (Northern Illinois) had an up and down day today. He showed that he could make stick throws on one hand, but also missed high some today and threw a pick 6 to Tank Carder in the two minute drill late in practice. He's still the #2 quarterback in St. Petersburg in my eyes, but he didn't have a great day today."
Rookie Draft
"LARON BYRD – WR – MIAMI: Byrd has been out for redemption since a very rough day one practice that featured a number of drops and miscommunication between he and his quarterbacks but as each day of practice has gone by, Byrd has improved with each rep he's received. Byrd was especially good in red zone drills yesterday using his big body to shield the football from defenders and converting two touchdowns on Day 3."
CBS Sports
"CARSON, Calif. — The first practice of the week in pads was the most physical and most intense of the NFLPA All-Star workouts.
The action was best in "The Pit," a drill matching offensive and defensive linemen one-on-one.
Some of the biggest programs in the country are well represented on either line, but it was the small-school prospects who made the splashiest plays."
Big Cat Country
"Patrick Witt, QB, Yale – Witt had the worst day of any of the six quarterbacks competing in the NFLPA Bowl on Tuesday when he was wildly inaccurate, but finished the week very strong with his strongest practice on Thursday. He displayed good, quick decision making in 7-on-7′s and didn't force throws into traffic."
"Bo Levi Mitchell, QB, Eastern Washington - Mitchell had the best day of the American Team quarterbacks and probably had the best week of practice as well. Standing at 6'0, 199 pounds, Mitchell probably doesn't have the size nor the arm necessary to be an NFL quarterback, but he should have won the American Team starting position."
Tags: All Star Game, Battle of Florida, East West Shrine Game, NFLPA Collegiate Bowl